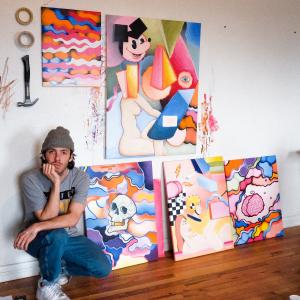 Heath Johnston
Artist member since 2019
fort collins, Alberta
Originally from Tennessee and living & working in Colorado, Heath is a graphic designer, painter, illustrator and idea nurturer. His paintings contain ideas and compositions that speak on human nature, sexuality, formlessness, time, desire, and attainment. His subjects bounce of of his subconscious with a curiously explosive nature and a strong connection to an idealized environment.
---
Only thing you need when you leave the house
every bit of music I own
Beverage of choice
Topo Chico
Favourite book
Anything written by Malcolm Gladwell
In a previous life I was (a) ...
Pianist
What do you listen to when you work?
A lot of Miles Davis and soul music
Why is art important to you?
Its how I communicate. Working out a composition calms me